I am going to try something new – a weekly Top Six list. Each Saturday will be a different theme – so here I go! My first list will be – my Six sites to see in Prague. And these will not be the usual ones like the Castle or Charles Bridge – those are the obvious choices. I am going to tell you about off the beaten path places to visit.
Divoka Sarka – this is a huge park/conservation area in the northwest area of Prague, close to the airport. You can easily access it by tram. It is just down a hill beside the McDonald's. There is a swimming pool, miles and miles of trails to follow, you can bike in there, or just simply walk and admire the beauty of the park and the stillness. Even when there are a lot of people, there is still a sense of stillness and quietness. It was my favourite place to go and unwind, to wander through, climb up some hills, and just seek solace.
2. Vysehrad
This is the other castle in Prague, and while tourists do manage to find their way there, it is not their top spot to go to. It's a beautiful castle, amazing castle grounds to wander through, there is a beer garden in the summer where you can sit and enjoy a beer and a sausage, and the views are incredible.
3. Zizkov
This was where my first apartment was located when I finished TEFL Worldwide. This is an eclectic area with many pubs and restaurants, the vibe is so cool here, and it is easy access to the city centre by bus (about 10 minutes), or walking (about 25 minutes). I loved this area when I was there and there was always so much to discover and explore!
4. Streleckeho Ostrova
This is a beautiful little island/park situated in the middle of the Vltava River, separating Old Town and New Town. People will come here with their families, there is a park to play in, you can have a picnic, you can gaze at the Castle and again just relax and enjoy the day.
5. Malostranska
This is an area a lot of people will get off at and walk up the many stairs to the castle. It is also an area where there are a lot of government buildings. It's an easy walk across the bridge to see Rudolfinum and to view the Castle at a different angle. I used to like to get off here and wander down the streets, and head to Charles Bridge.
6. Letna Park
I have talked about Letna Park before, in fact more than once I am sure! I lived about 20 minutes away by foot and I loved this park! It was big, spacious, with incredible views of the bridges and Prague, and the beer garden of course (not sure if anyone has noticed but there seems to be a constant reference to beer gardens…. ). But the view was what I always went there for. To sit and look at this view – how could it not be one of my favourite places to go to in Prague?
Stay tuned for a new list every Saturday!
Just dreaming this morning… one of my favourite spots in Prague. Take a minute today to dream.
"The ancient splendor and beauty of Prague, a city beyond compare, left an impression on my imagination that will never fade." – Richard Wagner
______
: Richard Horák
Today is the day that America does become great again. For the first time in the history of America, they will have a woman as Vice President, and the most diverse Cabinet ever. This is definitely a great day in America. I am so happy to see this day finally here and am hoping and praying that it is a peaceful transition. Happy Inaugural Day!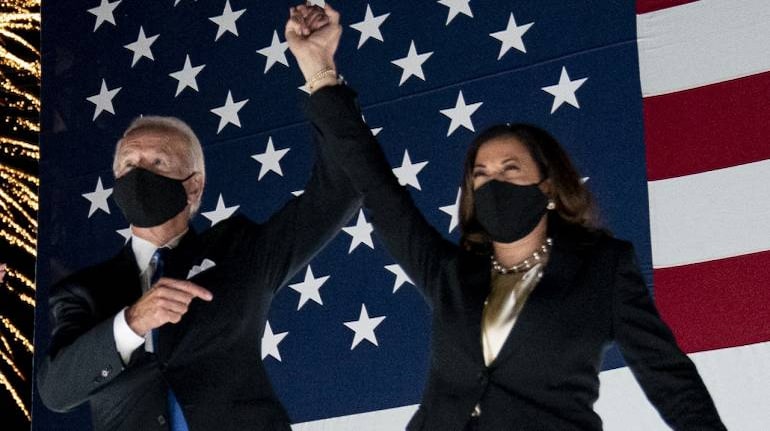 Well it just seems to get busier and busier every afternoon. We were told today that the 5 cashiers that were on managed to cash out 44 customers in 15 minutes! Go us!! It was a crazy afternoon but the customers were well behaved and there were no angry outbursts by anyone – customers or employees!
However, being on a lockdown and in a state of emergency, people are still tense and stressed. And we are hearing interesting stories from the customers!
Today one of our customers (a regular) shared a story of his daughter being in a local pharmacy this past weekend in a nearby town and there was an undercover policeman who ended up giving out a fine to a woman who had been there to purchase hair dye and curlers. Can you imagine? The story is that the policeman advised her that this was not a necessity and part of the lockdown is we are to be out shopping for necessities only. So – her "hair necessity" turned out to be a very major purchase – with a fine of $1,000!! Be careful out there people!!
Other than that, people seem to be behaving themselves, and our numbers here are going down. Hopefully the lockdown will do the trick and make our numbers magically disappear! Haha – wishful thinking on my part.
Have a great week everyone and be safe.
I have a friend who recently sent me some questions from an online summit that is starting soon, and as I was working on the questions, the last one struck a chord with me. What do I want? I want a lot, but I wanted to share with everyone what I wrote for that question.
What do I want?
I want peace in the world.  I know that sounds corny, but it's true.  I don't want to see people and countries fighting.  War is such an unnecessary evil in my eyes anyway.  Anger hurts everyone.  We need to see the beauty in everyone and everything we gaze upon.  
I want to be a person who can help others see that. I want to teach young women that they CAN do anything they want. I want to inspire older women that they don't have to just sit around and wait to die, worrying about everything. I want them to know that it's okay to worry, it's natural, but there are also so many great things in the world to see and things to do. We don't have to be considered the weaker sex, as we still are in some countries. We are strong. We can teach. We can walk. We can sing and dance. We can do anything!
I want my children and my grandchildren to grow up in a world where they can enjoy the freedom and the joy that they should be allowed to enjoy. To see the beauty in this world. To be safe no matter where they are.
I want to travel more.  I want to see the wonders of Turkey, the crystal blue waters that surround Greece, to once again see the beauty of the castles and towns of the Czech Republic, to explore the tundra of Northern Canada, to gaze upon the northern lights in Iceland, to hike through the mountains of New Zealand.  I want to go back to Chile.  I want to ride a hot air balloon over Cappadocia.  I want to lay on a beach in Thailand and enjoy the sun beaming down on me.  I want to see more of this world while I still can.
And I want to live out the remainder of my life, no matter how long that may be, with peace and love in my heart.  My love for my children and my grandchildren continues to grow every day and I want them all to know that I will love them forever, and that they will always have a special place in my heart.
That is what I want!
I was out delivering an Epicure order to a customer this morning, and as I was out walking, I came to the realization of just how lucky I am to live in a country like Canada. There are so many countries, including America, who are struggling with Covid-19 and political problems and while Canada is not perfect, we are truly a privileged country. Some may even say entitled. Despite my part of Canada being in a "state of emergency" and "lockdown" – I find these terms are used quite loosely and not many are following the regulations set out, we are not being bothered by by-law officers or the police to ensure that we are staying in, and I would say that we are very fortunate to have such freedoms.
My thought today is, as I say to everyone who leaves my till at the end of their purchase, is to BE SAFE. Follow the rules of your country, obey the laws and restrictions, and perhaps in a few months we will all be fortunate enough to meet up with family and friends and give them all a big hug.